Shopping Basket
Your Basket is Empty
There was an error with PayPal
Click here to try again
Thank you for your business!
You should receive an order confirmation from Paypal shortly.
Exit Shopping Basket
| | |
| --- | --- |
| Posted on 1 July, 2013 at 4:35 | |
Let's face it, when you're at your reception the majority of the time you will be posing for photos, visiting friends and family, and heck, just enjoying the fact that you just got married. The last thing on your mind is wanting to worry about whether or not every single guest is enjoying themselves. So why not plan ahead and find great ways to entertain guests and minimize potential wedding stress?
Essence of Events has come up with a few unique and easy ways to engage your friends and family during your special day and ensure that your wedding will be one to remember. These are great ideas to entertain your guests throughout your reception and to make sure they always have something to do.
Alternatives to Photobooths
Photobooths are great, but have you ever thought of adding a unique twist to this popular phenomonon? While your guests are taking photos, there are so many different ways to get them chatting with each other. One of our favorite ways to make your photobooth unique for you and your guests is to have them write wedding advice on a chalkboard – they'll get to talk about their experiences, and you'll reap the benefits of having tons of smart marriage advice!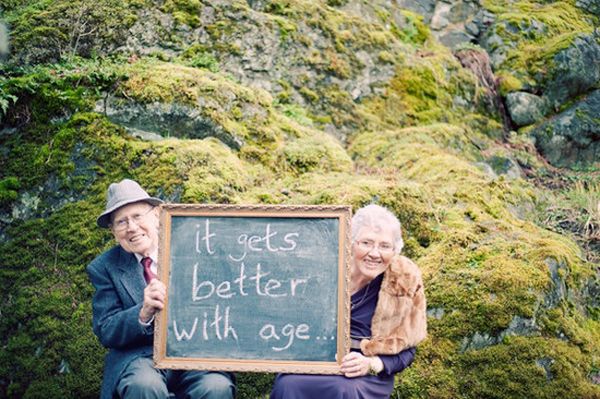 Simple and Sophisticated Games
Games can be an easy way to entertain guests, and we've seen getting-to-know-you games that are classy, too. Popular picks include "I Spy," wedding guest bingo, and Mad Libs, though we love the simple "Icebreakers" (above) which is perfect for guests waiting for the buffet line or a food to be served.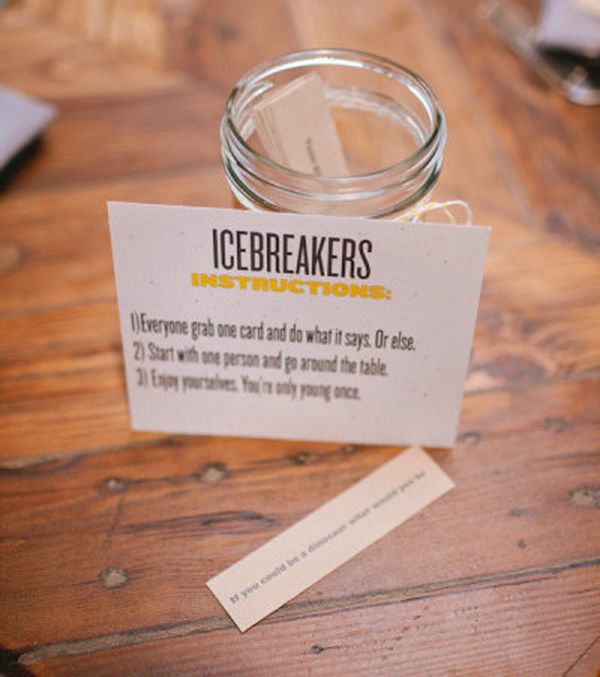 Memorable Guest Books
One of the first things your guests will do at your reception is sign a guest book. Make a lasting impression on them by picking a unique guest book that they'll remember. We love creative ideas like having them sign Jenga blocks, pieces of a puzzle, or contributing to an artful display that you'll keep forever.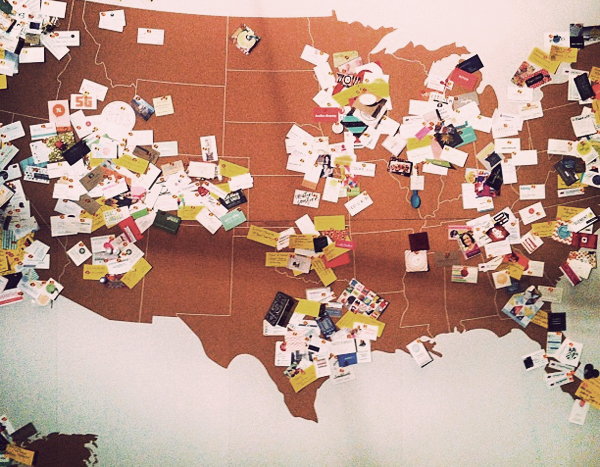 An Excellent Seating Chart
Every guest will need to figure out where they're seated at your reception, and unfortunately this process is usually more disorganized than fun. Why not try and create a charming experience for your guests instead? We love the idea of having guests find their placecard, and leaving behind a Polaroid picture of themselves before they're seated. This doubles as a fun seating experience for your guests and a simple, visual way to remember everyone who attended your wedding.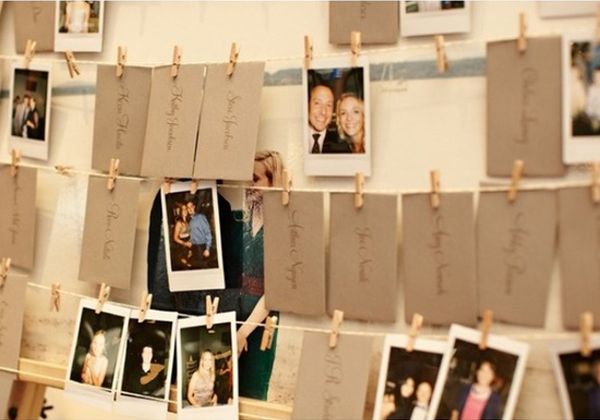 Use a Social Wedding App to Share Moments
Everyone has a smartphone these days, and you can bet that they'll be Instagramming their favorite moments and trying to look up their fellow guests on Facebook. Why not make it easy for them to get to know each other and share your wedding moments with a personal wedding app? Create an Instagram or Twitter account just for your wedding so your guests can personally hashtag your day and you can collect their photos after the night is over.
A DIY bar
Almost all of your wedding is planned to a T, so why not leave some parts up to the creativity of your guests? Let guests put together their own tasty treats with a DIY dessert bar. Some easy ideas might include a custom ice cream sandwich bar or a gourmet s'mores assembly station. We also love the idea of a DIY confetti bar, where guests can put together a colorful, custom bag of confetti to throw at your getaway.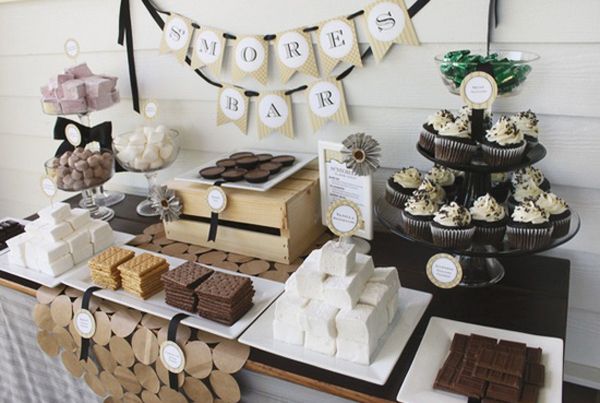 A Kissing Menu for the Bride and Groom
Clinking glasses all night long to see the bride and groom exchange a couple of pecks can get a bit trite. Why not jazz it up a bit with a kissing menu? This way your guests will need to work together (and have some fun!) before you reward them with a smooch.
A Drink Tasting or Pairing
A little bit of Alcohol is always one way to get people more social – but why not add a twist and make it a little more interesting? Get an expert on your favorite alcohol (your BFF Sarah?) to hold a tasting or pairing for your guests at your reception. If the groom is a scotch aficionado, hold a scotch and chocolate pairing. Other great ideas could be a wine and cheese pairing, or a specialty beer tasting (for all you hipsters out there).
A Spectacular Send-off
Once guests are riding high on a night of dancing and drinks (open bar, right?) sending you off in style can be a fun way to end the night. Make sure you have a fun way to let them participate in your send-off. Sparklers and confetti are tried and true choices, but don't limit yourself to these! Other ideas may include having guests create and toss paper airplanes, or having them attach a secret note for the bride and groom on a balloon and letting it go!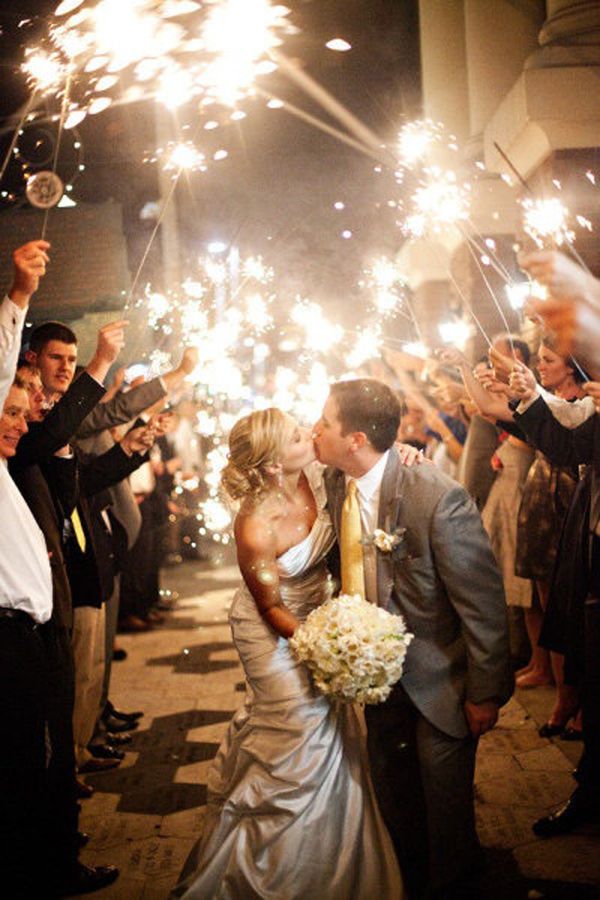 Door Hangers for the Morning After
Chances are some of your guests over the age of 21 will have a headache to nurse in the morning. It's the mark of a truly successful wedding, after all! Charm them by leaving the guests staying in hotels with custom do-not-disturb door hangers. They'll thank you (and think you're a genius) in the morning.
Written by Samantha Macrae

For help utilizing these great ideas and more for your upcoming wedding, contact Essence of Events, LLC today to set up your free, initial consultation. Call 253.292.1482 or email

[email protected]
 

 

 

 

 

Categories: Music/DJ/Entertainment, Weddings

0

/