Shopping Basket
Your Basket is Empty
There was an error with PayPal
Click here to try again
Thank you for your business!
You should receive an order confirmation from Paypal shortly.
Exit Shopping Basket
| | |
| --- | --- |
| Posted on 3 July, 2013 at 4:30 | |
It may be just getting into the summer wedding season, but in Washington that doesn't mean we have escaped the rain. At Essence of Events, we always plan ahead, especially for outside weddings. You never know when the heavens above may open and wash away your dream weather.
Though the Italians say "Sposa bagnata, sposa fortunata," or "Wet bride, lucky bride," when you've worked for months planning a wedding under a proverbial Tuscan sun and it rains at your nuptials instead, it's hard to think so.
To avoid that flood of emotion on your wedding day if it does decide to down pour, Essence of Events has come up with your plan B, C and all the way to Z to make sure that your big day goes off without a hitch, even under threat of stormy skies!
Rent a Tent
This is a must, especially if your entire event is all outside. Of course choosing where to secure the structure is another lesson all together; pitch it on the highest point of the venue and not downhill in case of a downpour.
Write It Down
About six weeks before your big day, when you're (relatively) calm and collected and able to think straight, write up a rainy day contingency plan you can pass out to your vendors, and even your guests, if the skies open up at your wedding.
Things to include are directions to a location change if you have to move your ceremony or reception to a separate indoor area and alterations to your timeline that allow for delays in travel time, setups, etc.
Send Rain Cards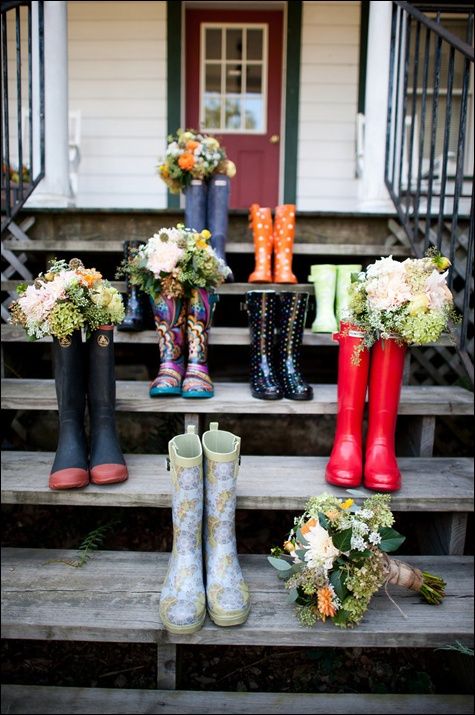 If your rainy day plan is more complicated for your guests than just showing up at the same venue now transformed with a tent, include "rain cards" in your invitations that tell guests about your alternative plan. It can be simple but stylish, on a separate card in the same font and format as your invite, explaining the changes. "In case of rain, please note that the reception will be held in the ballroom…"
Add More Wheels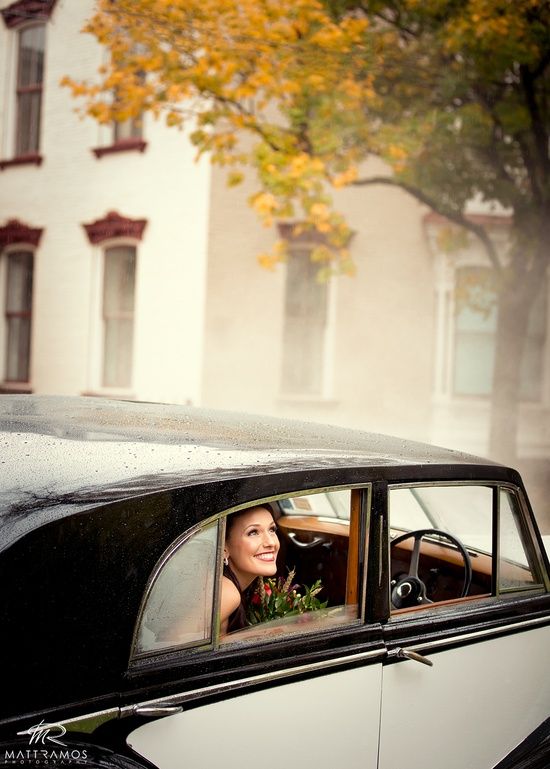 If the weather makes the roads slippery, consider arranging carpools or hiring a car service to take guests from the hotel to your ceremony and then to the reception if it is at another location. Not only will this help people who aren't familiar with the area remain safe on the roads, it may make sure people arrive at the ceremony on time.
Keep It Pretty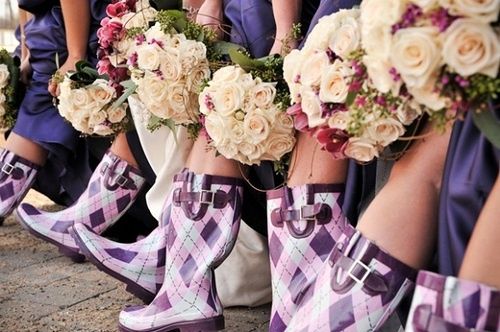 We all know a little rain never hurt anybody. Nevertheless, it can still pain you to see all your best-laid style choices get lost under raincoats, muddy pumps, and an up-do ravaged into a windswept up-don't.
Embrace the rain; think bright umbrellas for you, your wedding party, and guests. Provide adorable wellies for your attendants (and a pair of white ones for you), and other stormy weather preparations that make light of the dark weather ahead. On the bright side, these changes will make for great wedding photos.
Picture Perfect
Speaking of great pictures, one of the few people who will love the cloudy skies is in fact your photographer. That's because an overcast day offers some of the best lighting for picture taking. Without the harsh light of a sunny day, the softer, more diffused light will make all your photos better. Add to that colorful umbrellas and galoshes as props and you have some memorable images. Consider making cute signs to hold up during your photography session like "Rain, Rain" and "Go Away" or "Let It Rain."
Food For Thought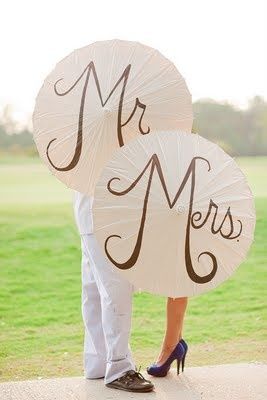 A check on the 10-day forecast can help you predict the more likely weather conditions on your big day. And if it's not looking good, keep your caterer on speed dial. That's because you may want to shake up the menu, just ever so slightly, to serve hotter comfort food and less chilled appetizers. If you can't switch to a stew, think about offering mugs of hot chocolate and mulled wine during cocktail hour, for example.
Laugh It Off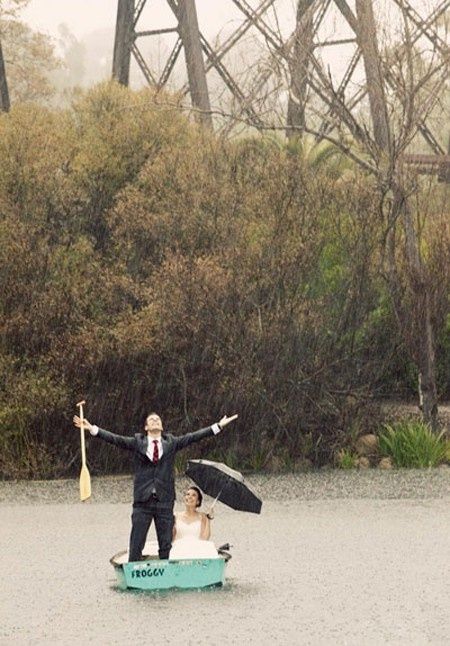 Making light of the cloudy skies is one of the best ways to weather the storm. Plus, it will help put your guests at ease and enjoy the moment too. So why not switch your signature cocktail last minute from the mojito to a "Dark and Stormy?" Change your ceremony's recessional song or your first dance to B.J. Thomas' "Raindrops Keep Falling on My Head." You get the idea.
For other great ideas for your wedding day, and to schedule your free, initial consultation with our Professional Planners, contact Essence of Events today. Call 253.292.1482 or email us at [email protected]
Written by Samantha Macrae
Categories: Weddings
/